Current fundamentals show that the majority of crypto-currencies move widely in a range, extending their lateral trade, without showing any significant gain in the short term.
The total market capitalization of cryptocurrency currently stands at about $ 238 billion, while Bitcoin accounts for about 65.8% of the total value and, in terms of market capitalization,  XRP is the third-largest coin and is not excluded from the recent downward trend, the crypto saves price of $ 0.270 per piece, plunging to about 2.62% already in the day. The recent fundamentals of XRP for the Coinbase Visa debit card have increased support for additional cryptocurrencies in the new European Zone 10, including XRP, showing no positive effect on the price of the coin.
The majority of the top 20 coins, including XRP, recorded minor losses, with several recording around 1% to 2% due to negative territory. Ripple and XRP are making progress in deepening the development and adoption of XRP.
Ripple's development and fundraising partner Xpring, has its director Ethan Beard declaring recently that the firm has launched a fresh SDK structured to simplify the process of building on the XRP ledger for engineers.
A fresh SDK was launched and it's the Xpring SDK, on prerequisites for calculating commands, 100 lines of JavaScript code, for example, in a simple way for simple data transfer in the XRP Ledger.
Meanwhile, to use the SDK in creating, an iOS developer that can write in Swift has only 10 lines of code for the same purpose. Now we'll make provision in a wide variety of separate languages for assisting in the developer's world.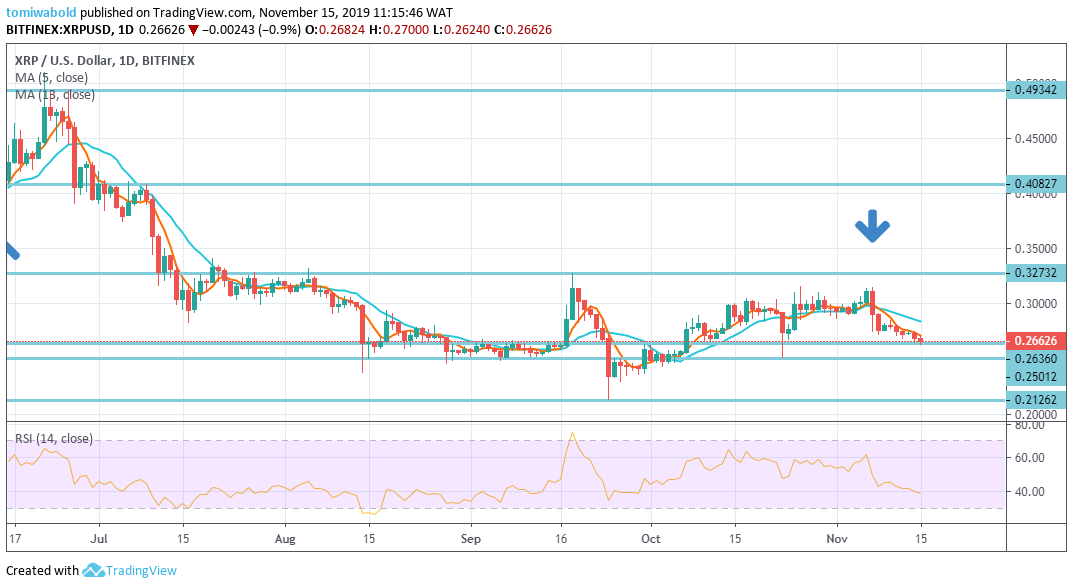 XRPUSD Trends Lower Consistently in a Row of Losses
Trending lower consistently in a row of losses in the last six days, XRPUSD exited Thursday on the level at 0.2680 with a loss of $0.0036 (-1.33%). However, in today's trading, we may record the lowest closing price from October 6th till now.
The cryptocurrency has affirmed its breakout through the prior days' low after trending up to the level at $0.0070 under its intraday. The daily time frame volatility shows it's a little lower than usual for the XRPUSD.
On the daily chart, the pair is trading between the near term demand zone and supply zone on the level at 0.3273 and 0.2501 respectively, with the current price on the level at 0.2673 close to support as at the time of writing.
The digital currency displays weakness for the time being (as per its daily downtrend) with just the medium-term pattern as yet being bullish.
Supply Levels: 0.2636, 0.2501, 0.2126
Demand Levels: 0.4934, 0.4082, 0.3273

Author:
Azeez Mustapha
Azeez Mustapha is a specialist in Computer Studies (including DTP), Forex and Crypto trading professional. Being expert technical and currency analyst, as well as experienced fund manager and author of several books, Azeez places strong focus on crypto market studies conducting comprehensive price analyses and sharing forecasts of presumptive market trends.